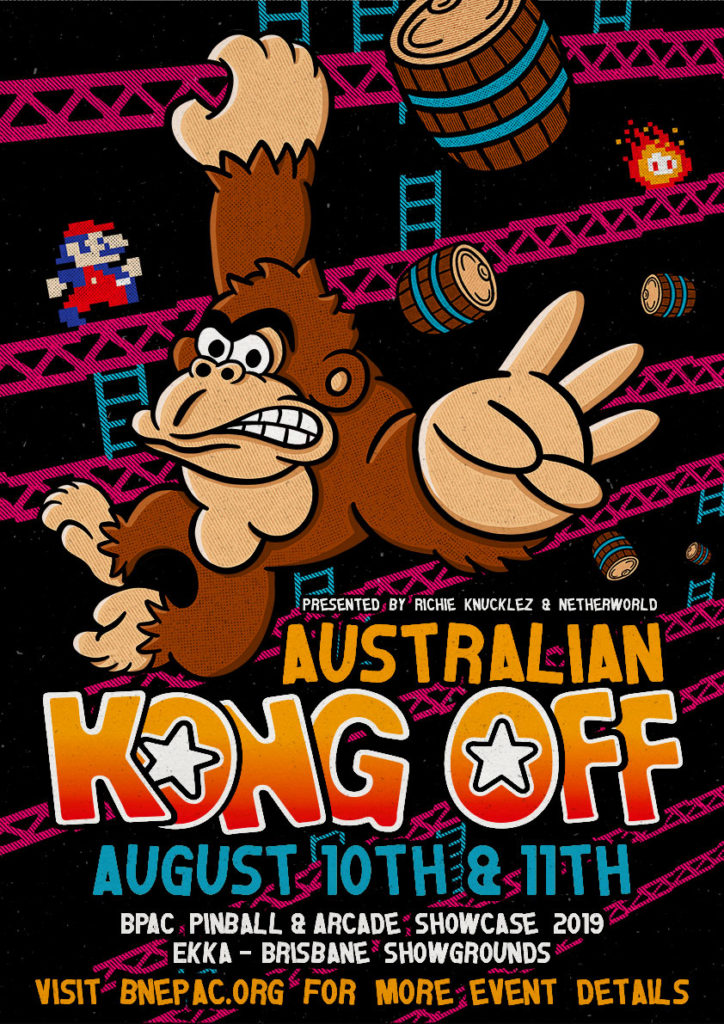 We return in 2019 with the Richie Knucklez and Netherworld presented Australian Kong Off III – the ultimate original Donkey Kong competition featuring the best Kong players from Australia, New Zealand and beyond!
Over one weekend, these masters of the barrel will be on one of the many original Donkey Kong cabs, smashing flames and avoiding springs as they go. On Saturday the 10th of August (10am to 8pm) players will duke it out in a high score 'Kong Off' to qualify, with the best 16 players competing in the finals on Sunday the 11th from 10am for the glory of the win!
Tickets are $45 and include entry to the Ekka Showgrounds, unlimited game attempts and a limited edition KO3 pin. Tickets can be found by putting BPAC in to the search bar at eventbrite.com
Format:
Qualifying:
Qualifying runs must be attempted and scores submitted between 10am and 9pm on Saturday the 10th of August.
Fair play rules will be in effect:
No hogging machines – Plenty of people will be attempting to qualify and everyone needs to mindful of other competitors to ensure that everyone gets a fair go.
No restarts after level 5
All scores must be witnessed and signed off by a tournament official before you leave the machine.
Top 16 scores advance to finals
Finals:
Seeded head to head single elimination bracket. Synchronised coin drop, no restarts, sudden death
Highest seed chooses cab first
1 v 16 – 2 v 15 – 3 v 14 – 4 v 13
5 v 12 – 6 v 11 – 7 v 10 – 8 v 9
Toward the conclusion of a head to head match during finals players must not concede, approach or shake the hand of their opponent until it is absolutely clear the match is over.
A match is not over until a tournament director taps the leading player on the shoulder and advises them they can stop.