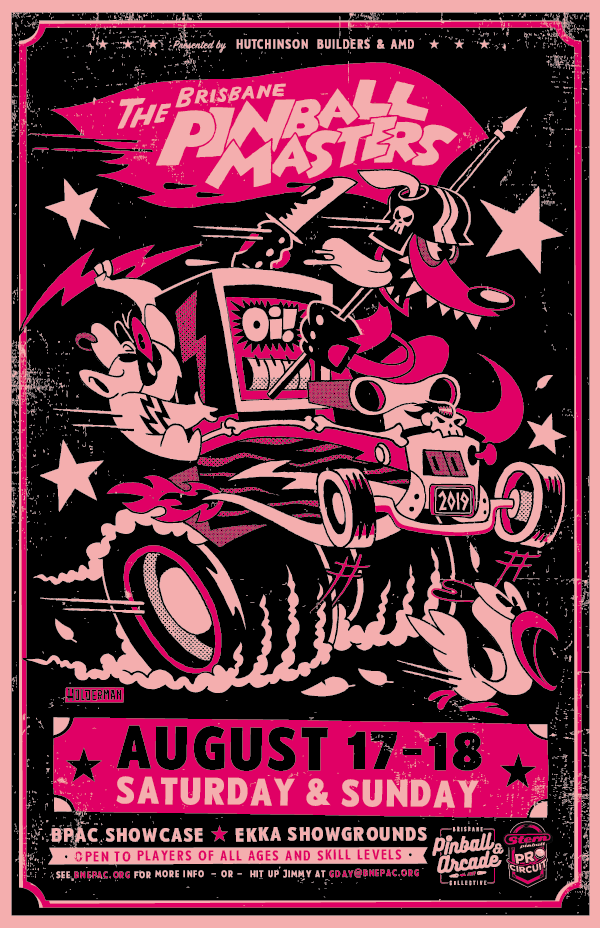 Presented by Hutchinson Builders and Amusement Machine Distributors (AMD).
The 5th Brisbane Pinball Masters is one of the biggest pinball events in the southern hemisphere and for the first time has been included in the Stern Pro Pinball Circuit. This puts the event in the top 20 most prestigious pinball events on the planet and will see people fly in from all around the world to compete. The Brisbane Pinball Masters has gone from 60 competitors in the 2014 to over 120 in 2018. This year the event is aiming for over 150 players from all skill levels and new players are encouraged to join.
Tickets can be found by putting BPAC in to the search bar at eventbrite.com
Tournament fee: $75 AUD
Tournament times: 10am start on both the 17th and 18th of August
Tournament format details:
QUALIFYING:
Once all participants are finalized, all players will be seeded based on their IFPA World ranking as of 30/6/2019
Players will be placed into groups of 4 once the seedings have been completed. (4 player games)
Each group will be assigned 3 games across each era (70s-80s, 90s, New) and play order at random by the Matchplay software
First round groupings – Slaughter (Strongest seed plays weakest, second-strongest plays second-weakest, etc)
Second & subsequent round groupings – Swiss (Players will be paired against players with the same win-loss record. No attempts will be made to pair players against previously unfaced opponents (adjacent pairing is used))
All games will be played as a 4-player game (unless machine is unable to allow it and/or notified otherwise).
There will be 7 qualifying rounds (21 games per player).
The top 24 players will advance to the A Grade Finals on Sunday morning, Qualifiers 25-72 will be split in to B/C/D grades. Ties for any placings in the Top 72 will be determined by the number of 1st place finishes, then by 2nd place finishes, then by a single game playoff (if required).
FINALS:
Finalists will be welcome to warm up on machines from 9am-10am.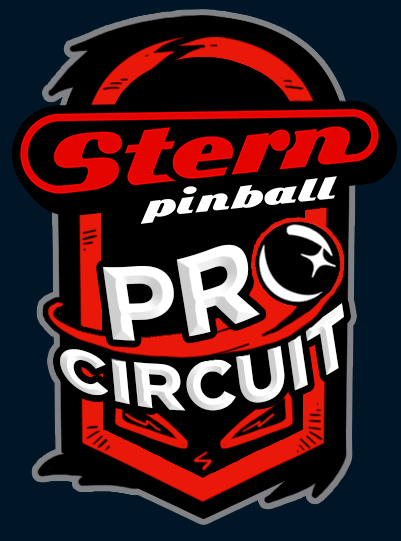 Finals will start at approximately 10.00am on Sunday 18th August. Players with byes will be allowed to 'warm-up' on a game or two on a machine allocated by the Tournament director(s) in the round before they are due to start.
A Grade – Top 24 Qualifiers
Round One: (24 players remaining)
Top 4 finalists are awarded a bye.
Best-of-5 game head to head matches according to final seedings. Highest seed for each match chooses a machine bank or play order for their game (play order reverses for each subsequent game)
Matches are determined as follows: 5 vs 24, 6 vs 23, 7 vs 22, 8 vs 21, 9 vs 20, 10 vs 19, 11 vs 18, 12 vs 17, 13 vs 16, 14 vs 15. The 10 Winners advance to Round 2.
Round Two: (14 players remaining)
Top 2 are awarded another bye, 3rd & 4th seeds now join in. Best-of-5 game head to head matches according to seedings of remaining players
Same as Round 1, with highest seed playing lowest seed, and so on. Same again for choice of machine bank & order of play. The 6 winners advance to Round 3.
Round Three: (8 players remaining)
1st & 2nd seed now join in. Same format (best-of-5 games, etc) as Round 2 above.
* The 4 winners advance to Round 4.
(If 1st place was to be knocked out here, the lowest they could finish is 5th)
Round Four: (4 players remaining)
Same format (best-of-5 games, etc) as Round 2 above. The 2 winners advance to the Grand Final, while the 2 other players will playoff for 3rd place.
3rd Place Playoff:
Best-of-5 game head to head series, same format as above to determine winner of 3rd place.
Grand Final:
The 2 remaining players will play a best of 5-game series, same format above, to determine the tournament winner.
B/C/D division finals:
B Grade – 25 vs 40, 26 vs 39, 27 vs 38, 28 vs 37, 29 vs 36, 30 vs 35, 31 vs 34, 32 vs 33
C Grade – 41 vs 56, 42 vs 55, 43 vs 54, 44 vs 53, 45 vs 52, 46 vs 51, 47 vs 50, 48 vs 49
D Grade – 57 vs 72, 58 vs 71, 59 vs 70, 60 vs 69, 61 vs 68, 62 vs 67, 63 vs 66, 64 vs 65
At the start of each round the highest seed in A Grade will get first choice of machine bank going down to the final match in D Grade choosing last